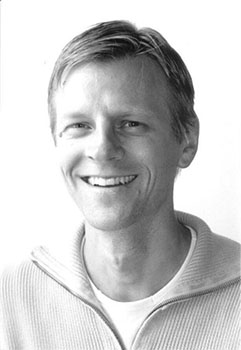 Robert Brook has been teaching yoga for nearly 20 years. For the past 15 years he has studied with Senior Iyengar Yoga teacher Ramanand Patel and has studied and practiced Yoga Therapy and Ayurveda. Robert holds a degree as a Clinical Ayurvedic Specialist from The California College of Ayurveda and he is on staff at the college as a Master Teacher.  Robert has also studied massage with renowned bodywork innovator Tom Hendrickson, D.C..
More recently Robert has been studying the work of Katy Bowman, MS.  He has completed a training in Restorative Exercise™ to become certified as a Restorative Exercise™ Specialist.
Robert is co-founder of Alignment Lab where he specializes in using Yoga, Ayurveda and Restorative Exercise™ as therapeutic tools to address a variety of health challenges.  Robert has worked successfully with clients with a variety of conditions ranging form low back and neck pain to urinary problems and chronic digestive ailments.  A talented educator, Robert seeks to teach each student to use the power of these modalities to achieve optimal wellness and self transformation.
Robert lives with his wife and partner,  Tiffany Turley in Sausalito.  His other interests include cooking and alpine skiing.
"Robert has the eyes and feel to know what each person needs next.  In a quiet but powerful way his encouragement is unfailing.  My patients consistently refer to his precision, his dedication, his example and his professionalism.  I couldn't agree more.  Perhaps most impressive to me is that remains a humble student of the discipline he is so skilled at teaching."